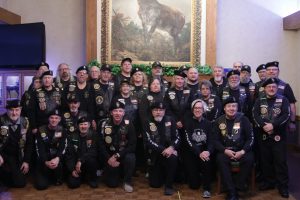 We are the American Legion Riders Association – Wisconsin District 4/5 which is all of Milwaukee County and its municipalities.
2022 Brought us a new Director and Assistant Director for our District. This year, there will be a new State Ride called Iroc's Run and the National Legacy Ride will end in Milwaukee for the American Legion's National Convention. Lets make 2022 a year to remember!

Onward and Upward!
Written by Mark Clark
July 12, 2022
We are 40 days from the start of the 2022 American Legion Legacy Run and I cannot wait to blow the horn and lead them out. We have planned a fun and easy run this year and we hope that American Legion Riders come out in force to be part of this special event.
I mean come on, we are starting at a WWII Battleship for heavens sake!!!! If you have not registered for this year's run, please do so soon so we can have a good headcount to give our stop locations.
Also, you don't have to be an American Legion Rider to donate. Anyone can donate by visiting https://www.legion.org/riders/registration where you can register as a "supporter" to help us raise funds for this very special scholarship program.