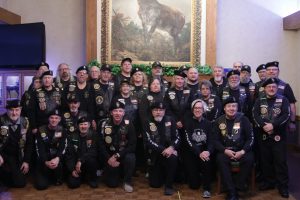 ** IMPORTANT. SINCE WISCONSIN IS ON "SAFER AT HOME" ORDERS, ALL MEETINGS AND EVENTS THAT ARE SCHEDULED THROUGH APRIL 24TH AND MAY 16TH ARE CANCELLED. SOME EVENTS MAY BE POSTPONED BUT THAT IS YET TO BE DETERMINED. THANK YOU FOR YOUR SUPPORT. **
** About Membership Cards. The new memberships has arrived and Mike Heller will be mailing them soon. Look over your information and inform Mike if there are corrections to be made. Thank you.**
We are the American Legion Riders Association – Wisconsin District 4/5 which includes Milwaukee and the surrounding area.
Wisconsin Legion Riders District 4/5 wishes Joellyn Heller a safe tour in Afghanistan. May her time over seas goes by quickly.
The Executive Staff welcomes Tracy Stefanski as our new secretary. Tracy stepped up to fill in as an interim.
Mike Heller stepped down from his Road Captain position so he can spend more time with his children. Please welcome Rob Preuss as our new Road Captain.